Piersol's Upscale Award-winning Homes
Offered at Florawood Country Estates in Franklin Twp.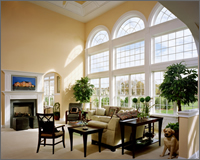 A spectacular family room, with soaring ceiling, spectacular window wall and optional cozy fireplace is the perfect retreat for family relaxing or informal entertaining in Piersol's award-winning Magnolia Place model.

For the second consecutive year, Piersol Homes has captured the Builders League of South Jersey's MAME Award for Best Single Home with an Average Sales Price Over $450,000. The lavish Magnolia Place, showcased at The Estates at Country View, joins last year's winner, the Aspen at Nature's Walk in Woolwich, as the best home in its class. Both award-winning designs join the many extraordinary models in Piersol's extensive portfolio of country estate homes offered in prestigious communities throughout Gloucester County.

One of the newest Piersol communities to offer award-winning homes is FLORAWOOD COUNTRY ESTATES – in Franklin Township, where construction is underway on the first homes is this elegant community.

Located adjacent to Piersol's popular Weybridge Chase community, Florawood is in a charmingly rustic setting convenient to Routes 42, 55 and the Atlantic City Expressway. It is particularly popular with buyers attracted to country estate living convenient to city employment, culture and entertainment attractions. With all of the Piersol quality, design and outstanding construction built-in, Florawood Country Estates is rapidly becoming one of the area's most popular new communities. Homes at Florawood Country Estates are priced from the low $500s, with all of the legendary Piersol quality features included.


Award-Winning Design


The Magnolia Place is a meticulously designed home that appeals to buyers attracted to the classically elegant, country estate style of this spacious home. Its spectacular volume foyer, with graciously curved staircase and soaring designer ceiling makes an immediate "architectural impression". The spacious floor plan was designed with a natural "flow," allowing each room to serve its purpose with the right amount of individuality and style – and lots of natural light and architectural accents for distinctive style.

While recognized for award-winning designs, Piersol also distinguishes itself by working closely with buyers to customize those designs to satisfy individual lifestyle preferences. "If it's architecturally possible we'll do it," states builder Bob Rodgers. "We already have the best home designs and we're constantly striving to improve them."

To visit the sales center and model for Florawood (at Weybridge Chase), take Route 295 South to 42 South to Fries Mill Road. Bear right onto Fries Mill Road and proceed 7 miles to Washington Avenue. Turn left onto Washington Avenue and proceed approximately one mile to site on the left. For more information about Florawood, call 856-728-7247 or visit the Piersol Homes website at www.piersolhomes.com.