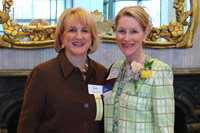 Susan Piersol (R) with Robin's Nest CFO Ruth London.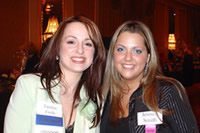 Piersol employees Taralyn Freda (L) and Jessica Smith volunteer at the Robin's Nest fundraising Auction.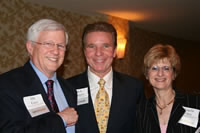 Bob Rodgers (c) with CEO Angela Estes and her husband Jere.
As a locally owned and operated independent homebuilding company, Piersol Homes has a vested interest in the complete satisfaction of each homebuyer. With each home we build, we weave another fiber into the fabric of the larger community where we live and work.
We believe that our responsibility to the greater community extends well beyond building homes. Susan Piersol has dedicated her time and expertise to supporting and advancing the work of The Robin's Nest, a non-profit organization based in Glassboro, which provides vital support services to abused, neglected and troubled children. She has been responsible for raising over $500,000 for the organization.
In addition to serving on the Robin's Nest Board of Directors in various capacities, including President, Susan is also chairperson of the committee overseeing the construction of the Robin's Nest's Life-Link Building, which will provide housing and support services for individuals 18 and over who have "aged out" of the foster care system, but still require housing, education and support services to enable them to live independently.
Susan's dedication and hard work on behalf of the Robin's Nest have been recognized by the President's Council of Service and Civic Participation which presented her with the prestigious President's Volunteer Service Award in recognition of over 500 hours of volunteer service. This award, established by the President of the United States, was designed to acknowledge extraordinary volunteer efforts by the country's leading citizens.
Business Leadership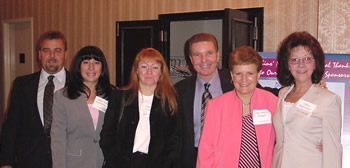 Piersol employees with company principal Bob Rodgers (3rd from r) at Robin's Nest fund-raising auction.
Also recognized for her business acumen, Susan serves on the Board of Directors of Susquehanna Banchares, a holding company nationally traded on the Nasdaq stock exchange. Both she and general manager Bob Rodgers are active in the Builders League of South Jersey, and are members of the prestigious State House Club of the New Jersey Builders Association.
Susan and Bob encourage and support their employees to participate in industry, charitable and civic endeavors. Piersol Homes' employees are active in charitable and civic activities throughout Southern New Jersey.