Classic Elegance for Contemporary Lifestyles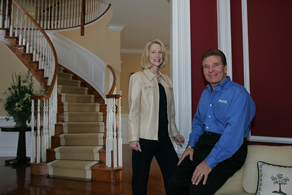 When it comes to distinctive, outstanding design, custom features and meticulous attention to detail in luxurious estate homes in Southern New Jersey's most prestigious locations, Piersol Homes leads the way. For nearly 20 years, the principals of Piersol Homes, Susan Piersol and Bob Rodgers, have worked diligently to carve out their niche as the builder of choice for discerning homebuyers who deserve and demand the best in executive-style living.
When company founder and president Susan Piersol started Piersol Homes, she applied her extensive knowledge and business experience to create a viable organization to effectively satisfy and serve the needs and demands of homebuyers. The foundation for Susan's entry into homebuilding was built on her experiences as a frequent homebuyer.
Prior to starting Piersol Homes, Susan worked as a marketing executive for Ford Motor Company and Coca Cola. A series of corporate transfers led her to purchase seven homes in seven different markets. One thing she learned was how to be a homebuyer. Those experiences taught her a lot about how to be a customer-focused homebuilder, an important guiding principle at Piersol Homes.
Customized Designs

Piersol Home's willingness to customize our award-winning designs to fit each homebuyer's unique lifestyle is a hallmark of our business philosophy. It sets us apart from other builders. We work very closely with our buyers and will gladly make modifications which are structurally possible to adapt our designs to accommodate individual lifestyle requirements.
Piersol Homes' award-winning portfolio of luxury estate homes features traditional and contemporary designs, with a plethora of options for personal taste and style. Each model starts with a unique vision and is shaped by our creativity, experience and understanding of the art and science of superior homebuilding. Our goal is to build distinctive homes that balance dramatic visual appeal and dynamic floor plans with total living comfort and convenience.
From dramatic volume foyers with graceful, flowing staircases, to expansive gourmet kitchens, impressively elegant formal dining and living rooms, to spectacular family rooms and luxurious owner's suites, Piersol Homes makes dreams come true in exquisite homes with customized designs to fit your lifestyle.